What is the difference between 506(c) Offerings and Crowdfunding? Well, they are both fundraising methods that companies can use to raise money. They also have some similarities like giving supporters early access to products or services. However there are still some fundamental differences in how each one works.,
The "506(c) accredited investor verification" is a process that allows companies to verify if an individual is an accredited investor. The difference between this and a 506(c) offering, is the latter does not require any regulatory approval.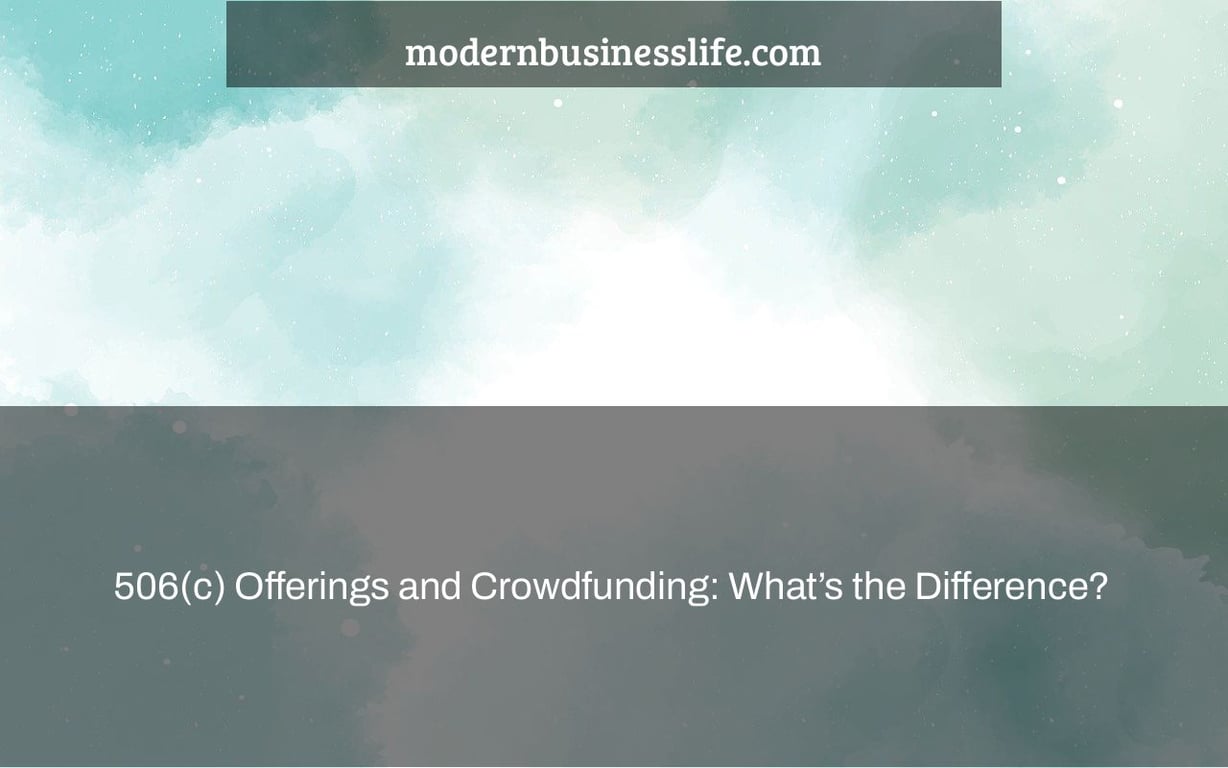 The Securities and Exchange Commission (SEC) has made many adjustments to its laws in the recent two years. The Jumpstart Our Business Startups Act of 2012 was responsible for these modifications. The JOBS Act, or Jumpstart Our Business Startups Act, was enacted in part to "lower barriers to capital creation, especially for smaller businesses." In other words, the JOBS Act aims to make it easier for businesses to recruit investors by establishing Rule 506(c) and an effort to regulate equity crowdfunding.
Companies were excused from reporting their transactions prior to the JOBS Act if there was no public offering involved. The corporation was not permitted to employ "general solicitation to advertise the securities" as one of the requirements. Companies were essentially forbidden from advertising or using crowdsourcing to recruit investors.
So, what is the purpose of Rule 506(c)? It lifts the ban on broad solicitation as long as the investors who arise from the solicitation meet a few guidelines.
You may wonder how this differs from crowdfunding. The description of crowdsourcing from Investopedia emphasizes the limitations of crowdfunding, such as the amount that may be invested. This limitation was put in place to safeguard people from losing their money, particularly because 25% of new enterprises fail within the first year (the rate of those still in business after four years ranges between 37 to 58 percent, depending on the industry).
Let's look at the fundamentals of 506(c) and crowdfunding:
506(c) offers and crowdsourcing might be thought of as relatives. Both strive to make it simpler for businesses to connect with a wide range of investors, and both take use of the promise of modern technology to raise money fast and inexpensively.
However, there are several key distinctions between the two. A general rule is that, in most circumstances, a 506(c) offering has less limitations than crowdsourcing, with the exception of who may invest, where the criteria for a 506(c) offering are tougher (c).
1. Who is eligible to invest?
This is one of the few instances when crowdsourcing allows you to cast a wider net. Only accredited investors may participate in 506(c) offerings, while crowdsourcing enterprises can take investment from non-accredited investors.
Rule 506(c) investors must also be confirmed as accredited investors. Companies may either use a third-party service like Verify Investor or risk executing the certification in-house. Investors are typically hesitant to reveal personal financial information about themselves to a firm they've agreed to fund, so using a third-party service is generally the fastest and simplest method to get over the verification obstacle.
2. What is the maximum amount of capital you can raise?
This is where the most major constraint of crowdfunding comes into play. While 506(c) offers have no restriction on the amount of money they may raise, crowdfunders are limited to a $1 million annual limitation. While this is common for artists, writers, and certain enterprises, it may not be appropriate for a company that requires a large amount of cash to get started.
3. Is it permissible to advertise?
Here's something you may not know: although 506(c) offers can now be openly promoted and publicized, the restrictions governing crowdfunding solicitation are significantly stricter. General advertising is tightly restricted, and major disclosure must take place on a well-established "funding portal," which we've all seen on our social media feeds.
4. What is now legal?
506(c) is now lawful, and crowdsourcing is on the verge of being legal. Only 11 states have approved equity crowdfunding for companies, and the SEC has yet to provide final recommendations. Even yet, since the internet is clearly not limited to state boundaries, such governments do not allow the use of social media to recruit investors. Although a framework has been proposed, equity crowdfunding (unless it is done under Rule 506(c) to approved investors) is still illegal.
What is the best option for your business?
When considering whether to use 506(c) offers or crowdsourcing, a number of issues come into play.
Consider the following:
Your company's size and scope: Is $1 million enough for you to get started, or do you need more? If you want additional money up front, the 506(c) options should be considered. Consider crowdsourcing if your first cash demands are modest.
Your product or service, as well as the people who will use it: Keep in mind that your target audience includes possible investors. Is it probable that they'll be able to get authorized because of their financial stability? If that's the case, 506 is the way to go (c). Crowdfunding may be more tempting if you're seeking for a broader range of investors.
Do you need funding immediately, necessitating the employment of Rule 506(c), or can you wait until funds arrive?
Legality: Keep in mind that there are still certain legal snags to be aware of when it comes to the amount of money that may be invested via crowdfunding. When accredited investors invest, they are aware of the danger they are taking, while small-dollar investors on a crowdfunding platform may not. Consider the possibility of backlash in your future plans, and always play it safe by consulting your securities attorney.
Still undecided about which choice is best for your company? Fill up the blanks with your questions in the comments section below.
Watch This Video-
The "506(c) exemption" is a type of exemption that allows for an organization to offer investment opportunities without having to comply with securities laws. The difference between the 506(c) offering and crowdfunding is that the former requires investors to be accredited, while the latter does not.
Frequently Asked Questions
What is a 506 C offering?
A: The 506 C offering is a favorite and popular type of IPOs that companies launch through the United States federal governments Small Business Investment Company (SBIC) program.
What is a crowdfunding offering?
A: That would be a new type of securities or share. They are offered by businesses looking to raise money for their business, and they can offer different investment levels on these early-stage companies in order to attract investors that have more risk tolerance than others.
What is a reg C offering?
A: A Reg C offering is a type of unregistered securities with the SEC. The most common types are non-equity crowdfunding investments, with companies selling shares to raise capital without having to register their offerings under Section 4(a)(6) of the Securities Act 1934.
Related Tags
506(c) offering requirements
506(c fund)
506b) vs 506(c) offering
506c accreditation
506(b)