With the rise in popularity of e-commerce, more people are turning their attention to starting a small business. Whether you're looking for advice on how to get started or just want some insight into what it takes, this article is perfect for your needs.
When starting a freight business, it is important to consider the following things: the location of the company, how much money you want to spend on marketing, and what type of freight services your company will provide.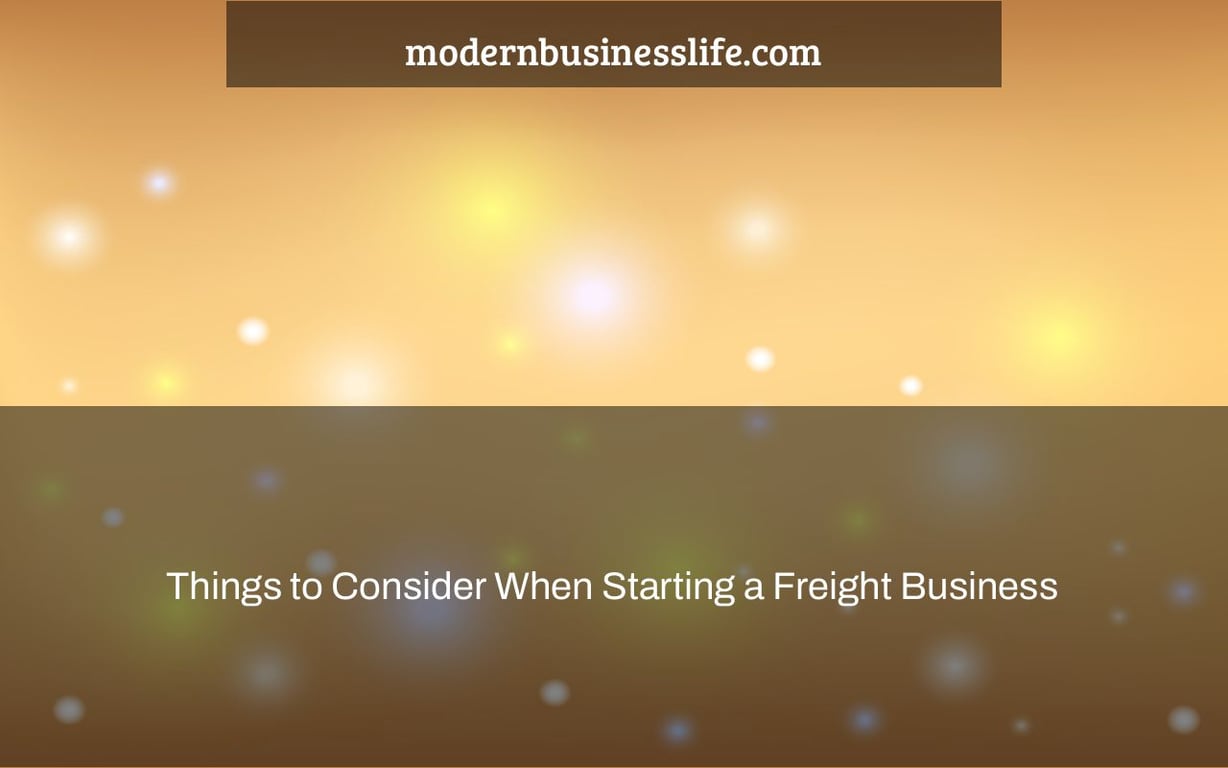 Freight is a huge industry. The global movement of products is a cornerstone of contemporary civilization, with practically everything we use and consume passing via the freight network at some point. Unless a business is large enough to have its own fleet of vehicles, it will have to depend on third parties to transport its goods. For air, rail, and sea transportation, even the world's largest enterprises depend on specialized freight services.
In the United Kingdom alone, freight forwarding is expected to generate £21.69 billion to the economy this year. This scenario is replicated over the globe, and starting a freight company has never been more appealing.
A freight brokerage firm and a freight forwarding business are the two main kinds of freight businesses. Both sectors offer a number of advantages and disadvantages.
Establishing a freight brokerage firm
In most cases, freight brokerage firms do not handle shipments directly. Instead, they serve as coordinators, bringing together suppliers and carriers. A small firm, for example, could wish to deliver an item to a client halfway across the globe. The freight brokerage company will look into several shipping possibilities before appointing a carrier to pick up the items and carry them to their final destination.
The job entails a lot of communication—soliciting customers, negotiating pricing with carriers, monitoring shipments, and arranging alternate transportation if a supply chain issue arises.
Costs of starting a business
On the surface, the necessary initial capital seems to be modest, since brokers simply require a phone and a computer to operate. Keep in mind, however, that effective logistics software—a necessary tool in today's freight market—can be prohibitively costly.
In the early stages of establishing a freight brokerage firm, cash flow might be a challenge. Brokers normally take 20% of the charge, but consumers don't pay until the item is delivered—and carriers sometimes demand payment up advance when dealing with a new broker.
Advantages and disadvantages
There are little restrictions to beginning a freight brokerage firm in several nations, making it an attractive target for would-be entrepreneurs. Many others, on the other hand, have enacted stringent controls. Brokers located in the United States, for example, must obtain a very costly bond and follow a slew of other regulatory restrictions.
Even if your nation does not regulate freight brokers, it is a good idea to join an approved industry association. This will assist establish credibility for your new business and encourage prospective consumers to hire you.
Finding firms to accept your goods may be a dangerous and time-consuming endeavor at first. You'll need to list your cargoes on an internet board for firms to bid on, with the highest bidder finally negotiating a contract with you.
It's critical to choose a trustworthy carrier since unscrupulous firms have been known to hold cargo hostage or just cancel shipments if a better offer comes in. This portion of the procedure gets considerably simpler if you've selected a dependable carrier and established a working connection with them.
How to Start a Freight Forwarding Company
Freight forwarding companies, unlike brokers, often handle client shipments directly. A freight forwarding company might receive items from a client, keep them in a warehouse, combine minor shipments into one bigger consignment, and even transport them, depending on the size of the cargo and the destination.
Forwarders, like freight brokers, choose other carriers to handle cargo, especially when items must be carried internationally.
Costs of starting a business
The quantity of initial money required may vary based on the items you'll be managing as well as the services you'll be providing. However, it will almost certainly be more costly than opening a brokerage.
You'll need at least one car for transportation, as well as a safe storage location for your goods and maybe packaging supplies. If you want to commission additional carriers, you'll need to invest in logistical software as well.
Advantages and disadvantages
Handling supply chain interruptions is one of the most challenging tasks for a freight brokerage company. Particularly when dealing across international boundaries, transportation delays and shipping difficulties are prevalent.
Despite the fact that the broker is seldom to blame, late or missed deliveries may substantially hurt a company's reputation—and its bottom line. Freight forwarding companies that take part of the transportation chores in-house have significantly more control over their service, and are therefore more likely to attract and please consumers.
However, as a result of this greater obligation, there is also an increase in liability. Freight forwarders, unlike freight brokers, actually handle goods and are therefore subject to a variety of insurance and licensing laws. When operating internationally, these rules double tremendously, therefore being current on international customs and transportation legislation is critical.
The professional touch
Freight brokerage and forwarding are both extremely competitive industries, and the market is flooded with generalist firms, many of which are huge and strong. Being a specialty firm that focuses on a certain sort of cargo or mode of transportation is a smart approach to set yourself apart from the competitors.
Specializing on a certain sort of cargo, such as excessively big loads, student moves, or delicate goods, can drastically decrease your client base. This isn't always a disadvantage, however. In freight, reputation and relationship-building are crucial, and having a smaller customer base enables you to devote more time to cultivating those ties.
A fresh forwarder or broker may quickly establish themselves as a recognized firm with a dedicated client base by concentrating on providing exceptional, individualized service within a narrow area.
To sum it up
Depending on where you live, starting a freight brokerage firm may be the most cost-effective method to get into the sector. Freight forwarding companies, on the other hand, have greater control, and those who provide specialized services have a genuine chance to build a significant business.
To be successful, regardless of your chosen route, you will require a tremendous degree of information. Start by extensively reading foreign customs legislation, transportation regulations, and insurance regulations. Experience is vital in any business, so completing a specialty course or learning the ropes at a well-established firm is strongly advised.
"Starting a trucking company business plan" is a guide that will help you with everything from financing to finding the best spot for your new business. Reference: starting a trucking company business plan.
Frequently Asked Questions
What is needed to start a freight business?
A: To start a freight business, you first need to decide what kind of business that you want. Then, if the freight is going from point A to point B and its not too dangerous or heavy in weight, then there are people who will pay for this type of transportation (Freight Forwarders).
Are freight companies profitable?
A: If you go to a place like West Coast Logistics, they are very profitable.
Related Tags
how to start a freight forwarding business
starting a trucking business checklist
how to start a logistics company
starting a trucking business for dummies
how to start a trucking business without driving