With the competition heating up, we get a recap of what happened in San Antonio and how StartupBus Team Mexico kicked all other teams' asses.
The "San Antonio, Texas" is located in the southern United States. The city has been hit by a storm that stole the StartupBus show from San Antonio and brought it to Mexico.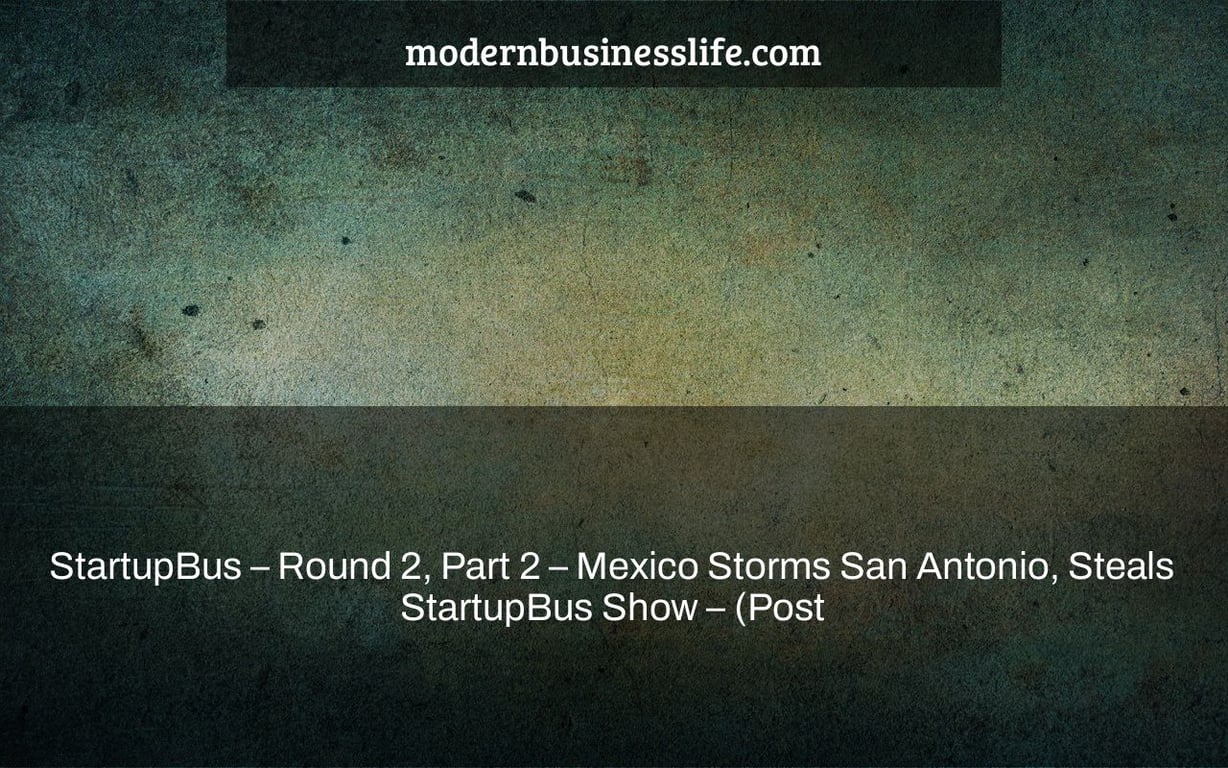 Zack Price, an entrepreneur, is guest blogging about his experience aboard the 2013 StartupBus as it travels from Chicago to Austin for SXSW. On the StartupBus, a group of strangers has 72 hours to invent, construct, and launch a firm while traveling at 60 mph. You can read the first post in this series here, the second here, the third here, the fourth here, and the fifth here.
I apologize for not mentioning the other semi-finalists until now. I've been unable to accomplish anything else since I've been engrossed in reading all of the other blogs on BPlans.com. The BPlans resource site and Up & Running Blog get over 1,000,000 monthly views, making it one of the most popular small company websites.
I'm not sure why they handed me the megaphone. I'm still undecided, but now that I have it, I'm going to cherish it and make sure these other amazing businesses are represented.
That's how we do things in the startup world. One for all, and all for one. It's not a zero-sum game here. Expand the Pie. We are a family. My new family consists of the whole Mexico bus.
GANAMOS a todos (everybody wins)
We have an issue in San Antonio. For tonight, forget about the Alamo. Mexico has achieved the unthinkable.
They used the Southwest route from north to south. Three teams were represented in the final 12 by conductors Chio Paniagua and Jeduan Cornejo, and all three were outstanding. So good, in fact, that I'm going to have to put the remainder of the Semi Finals on hold in order to write a blog post on this south of the border autobs. I'm still baffled as to how these conductors managed to maintain such composure.
Consider that for a moment. Close your eyes, please. Take a deep breath. Consider that for a moment.
The Mexico StartupBus is a bus that runs from Mexico City to Austin, Texas, via San Antonio, and is packed with over 100 electronic gadgets (smart phones + tablets/notebooks) and roughly 40 geeky entrepreneurs (the San Francisco bus had just 19 passengers).
Some of the rapscallions are dressed like the 2013 James Dean, with slices of raspberry-pi folded up in their short sleeves. Consider this my application to be a Mexico Conductodoro for the next season.
Their "documentarista," whatever that means, is a man called Humberto Ceballos. (It's a shame the Midwest bus didn't have a documentarian… cheats.) Take a look at Humberto's photo on his profile page. This Mex is not to be trifled with.
So 40 Mexicans board a bus bound for the United States… Sorry, but I've heard that joke at least eight times before… Purchase some fresh materials.
What exactly is it? You're talking about a 'Startup Bus,' aren't you? Try explaining that to the Border Patrol of the United States of America, amigo. I wish you luck with it. They're crossing the border between the United States and Mexico "the hard way" (coming in, not going out). I'm sure getting all the way to San Antonio wasn't simple, but hey, pimpin' ain't easy.
Let's not forget why we're here in the first place. Three fantastic Mexican start-ups. It gives me great pleasure to present them to you:
1. Fitchallenge.co — A gamified application that encourages you to improve your behaviors while competing against your peers. Simply said, FitChallenge is the most effective strategy to maintain a healthy lifestyle. This market is ready to be exploited. I know since I operate a business that provides online personal training. THE FITNESS INDUSTRY NEVER GOES OUT OF FASHION.
People will always want to work out, unlike IT enterprises, which are in vogue one week and out the next. Man, believe me when I say that I'm telling you the truth. Over the previous decade, I've written over 100 fitness books and ebooks. On fitness books alone, I received the SelfPublishing.com Glengarry Book Sales Platinum award six times.
The United States, Mexico, Australia, South Africa, and Southeast Asia are all getting in shape. Even in Antartica, where they're battling the blubber gene and Darwinism at its best. FitChallenge might be around for a long time if they can blow up this market.
Is it Will Smith and Tommy Lee Jones in the background?… No, muchachos, it's The FitChallenge. The MIBs are who they are. The Mexicans in Black — the ones you remember – are on their way. Defenders of the Galaxy.
Ask them instead of me if you want to learn more about FitChallenge: Jose Alberto Garca – Daniel Vazquez – Carlos Toxtli – Rodrigo Ayala
FitChallenge did not make it to the StartupBus Rackspace Finals in any form. However, the FitChallenge team went on to win an additional hackathon at SXSW, the Seven-Eleven one. That only goes to demonstrate how fierce the StartupBus competition is.
2. USupply.me — A website that connects prospective customers with providers. Talk about a significant, long-standing economic issue.
I knew the rest of us were in danger when this lovely muchacho Elias went on stage, denim jacket vest and everything.
In his silky Mexican accent, he looked Robert Scoble and Nicholas Longo in the eyes and said:
"Hello, my name is USupply, and I'm here to alter the way buyers and suppliers conduct business." hombre – male "Hello" drew me in. I need to grow a beard like that…
This supply/demand issue is indeed a major issue for USupply. As you can see, the judges took this extremely seriously, as I am attempting to solve. Scoeblizer himself had a grim expression on his face as he looked forward. After all, he may be a bot.
Just a moment… How did photographs of USupplyMe appear in the Mexico Flickr stream from behind the judges… and then in front of the judges?
At Rackspace, these mexican IT entrepreneurs are EVERYWHERE. I can't go three feet without giving someone from the Mexico bus a high-five!
In Rackspace's Auditorium, Team Mexico was set to turn up the heat. They were preparing to demolish the home… Then detonate a bomb in this house.
First, have a look at this 82-second video from USupplyMe. It has Beatles allusions and everything, so it's a lot simpler to read than me. Why should I waste my time telling you more about them? After all, USupplyMe progressed to the Rackspace Final 6 and you'll hear more from them later!
[youtube] (https://www.youtube.com/watch?v=Qsd885pT-Wc) [youtube] (https://www.youtube.com/watch?v=Qsd885pT-Wc)
Please contact Elias Shuchleib, Allan Vazquez, Javier Esquivel, and Andrés Cano to learn more about USupplyMe.
3. Cloud Spotting — David Gómez Urquiza and Luis Lopez Mendez, a two-person duo, took the stage. So far, I've been pleased with USupplyMe and FitChallenge's excellent Mexican business ideas… But I wasn't prepared for what occurred next, and I'm sure neither are you.
Regardless, I'll tell you. Just make sure you're seated before I teach you about CloudSpotting…
Clouds are legendary metamorphic animals, according to Lulo and David. That is why they can be whatever you want them to be. Cloudspotting, we feel, is a fantastic reason to be creative and get rid of the anxiety of a blank canvas. We encourage and support the development of creative minds.
If you don't speak Spanish, I'll explain in clear English:
Drawing on Clouds is what CloudSpotting is all about. CLOUDS ARE DRAWING ON. That's correct. Clouds, as in the white fluffy stuff that float about in the sky?
That is all there is to it. That is how they want to alter the world. I'm going to draw some clouds. That is, after all, their business.
I simply had to go because it seems so easy. Right now, have a look at it. Please, please, please, please, please, please, please, please, please, please It was a lot of fun. Did you pull it off? They've even gotten a $65.00 gift. $65? F**k it.
Lulo & David grabbed the audience and judges by the throats and did not let go until they walked off the stage to a standing O…and a potential marketing contract with Rackspace's Tiffaney Fox Quintana. Just as I was about to storm the stage demanding a revenue model, Lulo & David grabbed the audience and judges by the throats and did not let go until they walked off the stage to a standing O…and a potential marketing contract with Rackspace How about a standing O-M-G instead of a standing ovation?
With their comic pitch, they had everyone in the building leaping up and down in laughter. Depending on their nation of birth, everyone was "hahahaha" or "jajajaja."
As stated before, StartupBro Kyle Eschenroeder (standing), StartupBro Will Mitchell (seated), and Ashley Mooney are all beaming from ear to ear.
Look for Matt Schaar, Nicole Kusold, Adam Ritenauer, and others listed below. Shachar Schiff, too, with his mouth agape and limbs flailing in the air. Shak hadn't smiled since Louisville, and look at him now. (I'm not joking when I say Louisville.)
I've said it before, but I've never seen a professional comic manipulate an audience like this. Even when Scobleizer interrupted to "talk about money" after judge Nick Longo rushed out of his seat to snap photographs, Lulo moved straight to the slide presentation outlining the contributions and how CloudSpotting will be free and their native applications would be monetized. Lulo, money can't buy me love.
They're not even native English speakers, yet they just threw the finest pitch of the night. I think the last time I wept genuine tears was when I feared I was going to flunk Espanol 201 and not be able to graduate on time from college. Now I'm laughing and sobbing tears of delight. FREAKIN' CLOUDS ARE BEING DRAWN ON.
As they waltzed off the stage to a standing ovation, I almost expecting them to shout into the mike, "Stupid Americans!" Clouds to draw on! Look at David, he's sticking his tongue out like Michael Jordan when he's in the zone. Is it possible for them to be any more "in charge" of this situation?
CLICK THIS LINK TO SEE THE FINALS PITCH THAT TWISTED THE RACKSPACE AUDITORIUM – posted and memorialized with the description: "The pitch that I'm going to utilize to pitch at StartupBus Semifinals." This SlideDeck will be inducted into the StartupBus Hall of Fame right away.
The CloudSpotting duo pitched all 9 innings by themselves. Lulo not only pitched a no-hitter, but he also combined with his teammates to pitch a perfect game. It was flawless from beginning to finish.
They've just emailed me the video — have a look!
[vimeo 61936848 w=500 h=281] [vimeo 61936848 w=500 h=281]
You don't even have to wait for the judges' decision. THE RACKSPACE FINALS ARE COMING TO CLOUDSPOTTING.
Lulo & David went off the mound as "Los Presidentes" (at least to me), just as my keyboard blew up in my eye owing to too many accent marks in this message. To conclude this bloggy, I'm "tapping" my ipad3. On an iPad, making accent marks is a pain.
The FitChallenge lads, CloudSpotting's bus-mates and fellow semi-finalists, blasted it out loud and clear from their team tweetdeck:
"CloudSpotting just ruined the show #GoTeamMexico," says @FitChallengeApp.
Hermanos, #GoTeamMexico is correct. After all was said and done, Team Mexico unfurled their national flag, gathered in a large group, and began chanting the Olé song again. "Olé! Olé Olé Olé!… Olé!… Olé!" they say. I'm not going to lie, I was singing along word for word with them. I didn't even have to look up the lyrics on the internet. Now is the time for everyone to dance. Everyone got up and danced.
[youtube] (https://www.youtube.com/watch?v=W9XTKtWTLAk) [youtube] (https://www.youtube.com/watch?v=W9XTKtWTLAk)
The whole Rackspace Nation was chanting the "Olé" song loudly and proudly while waving the Mexican flag in true patriotic spirit. Rackspace HQ, I guarantee you, has never seen a celebration quite like this. However, it's unlikely that they've ever had 156 bus-preneurs from all over the world in the auditorium after 8 p.m. on a work day.
I'd want to go right now, but there's one more thing… (In the voice of Steve Jobs)
Team Mexico is showing him love like he can Bend it Like Beckham or something, and I see this huge white man drinking shots of Patron and sipping Corona. His name turned out to be Steven Zwerink, and he was a bus-preneur / mentor for Team Mexico. He will be in charge of the Brazil StartupBus. He says "Brasil," but I like to use the Z. It's much too legitimate to give up.
Steven wrote about how his experience on the StartupBus taught him ten valuable life lessons. Zwerink is also responsible for almost all of the photographs in this article. He was also the Mex squadrant's unofficial photographer.
While you're already enthralled with @StartupBusMX, check out Eme Morato's blog on how Mexico dominated the StartupBus.
Ignacio Tovar's contribution to my blog would not be complete without it. Thank you, Amigo. Thank you also to Abraham Cornejo, who was a great supporter of the NextChaptr team.
This is them with Michelle Dash, their muchacha (and a colleague of mine).
This talented Mexican group is welcome to join me at my Hibachi dinner table at any time. Isn't it true that both Americans and Mexicans like Japanese Hibachi cuisine? I hope so, since I like that kind of thing, plus there's typically enough space for eight people per table, which is nice.
A tribe is defined as a collection of individuals who are linked by a common goal, a leader, or a concept.
Tonight, the Mexico bus taught me a lot of things… Tribes. We need your leadership.
I like Team Mexico so much that I created a separate Twitter account for them. I can now keep track of all of them with a single click. You can do it, too. They take the lead, and we follow. But be warned: half of the people Twitter suggests I follow now only tweet in Spanish, which is frustrating (yet kinda cool).
37 of the 39 mexican bus entrepreneurs (that I could find) are under 30 years old (Alejandro Arza and Alberto Garcia are both old-school Hackers). The majority of the people are in their twenties and thirties.
So, if you're in the Clouds, get your head out… Keep an eye on each and every one of these tenacious Mexican IT entrepreneurs. Over the next decade, Mexico will be a major player in the field of technology.
Tonight makes me want to abandon everything in these bitter Chicago winters, abandon 1871, change my name to Julio, and create an incubator in Mexico City called 1836… Are you familiar with the Alamo?
DON'T EVEN THINK ABOUT IT. It's a piece of ancient history. At least for the time being. Our forefathers and mothers were not even alive at the time. They didn't have email, mobile phones, or any kind of phone at all. How did they manage to live in such a manner?
With skype calls, g-chat, and a million other things, I can stay in touch with my friends these days. It's becoming more simple to exchange ideas and start businesses… quickly… digitally… remotely… entirely online.
I know what I witnessed tonight, regardless of the year. It's 2013, and Mexico has just stormed San Antonio, seizing the stage… That's something I'll never forget. Olé, Olé, Olé, Olé, Olé, Olé, Olé,
— Chicago (and Honorary Mexican) Entrepreneur
———————————————————-
The remainder of Mexico's lineup is as follows:
Team Chromatix didn't make the cut, but it only meant more fiesta time for them.
Eme Morato, Paulina Llamas, Ana Corral, Genisis Gonzalez, Cesar Gutierrez Bartra, Edgar Hernandez Vilchis, and Humberto Ceballos are among the participants.
Team Emplify.us is shown below. Carlos Ferreyra, Steven Zwerink, Christian Roman, Javier Rosas, Alex Rodriguez, Rodrigo Figueras
Team Mexico prepares to raid Rackspace's headquarters in San Antonio, Texas.
Yes, there's a lot more: McMillan, Eoin (Mentor) Legaspi, Fernanda Llamas, Paulina Zetter, Benjamin "Pechi" Carlos Tamés Mosio is a character in the film Tamés Mosio. Cesar Gutierrez is a Mexican politician. Gonzalez, Bartra Rulótico Vilchis, Edgar H. Islas, Jose Gabriel Espinoza, José Angel Allan Vazquez is a character in the film Allan Vazquez Acua, Gerardo Greg Nielsen is a physicist who Aguilar, Eric Cano, Andres
adios
Watch This Video-
Related Tag